Safe Liberal seats may turn teal. Can the Teal Tsunami of self-motivated thinkers also swamp rusted-on believers in safe National Party seats?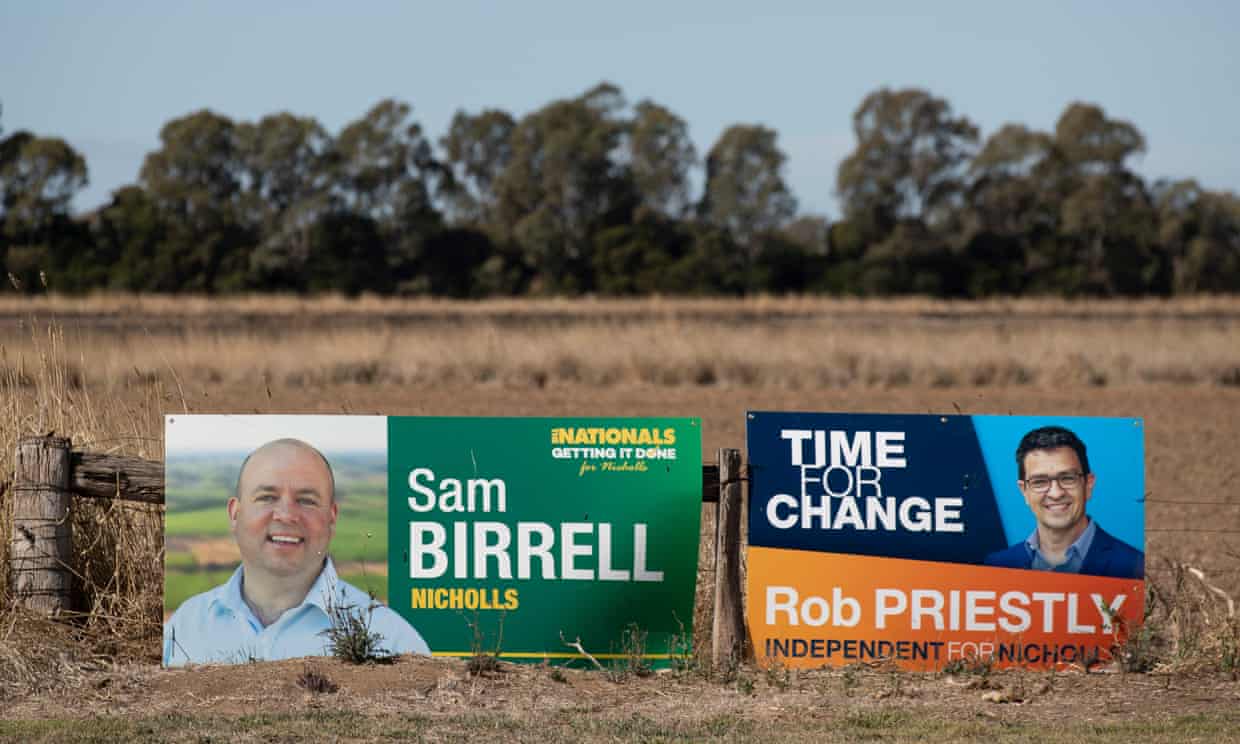 by Gabrielle Chan, 02/05/2022 in The Guardian
Nicholls might be a safe Coalition seat but alternatives will test the Barnaby Line: Voters have first-hand experience of a state independent MP who is closely aligned to federal candidate Rob Priestly.
The Goyder Line marks the line of reliable rainfall in South Australia. The Brisbane Line marks the apocryphal plan to abandon northern Australia during the second world war. The Barnaby Line, then, could mark the boundary of Barnaby Joyce's appeal to rural voters.

It has long been assumed that Joyce is a Coalition plus in the regions and a minus in the cities, but his regional appeal may be changing in the southern states. If it is, that would mirror the challenges of all major parties, trying to straddle the divide between what voters want in the north compared with the desires in the south-east.

North of the Barnaby Line – in northern New South Wales and all but the south-eastern part of Queensland – the Nationals leader is considered a plus: bringing in more votes than he loses.

But is he a negative in the southern states, losing his MPs and candidates more votes than he attracts? This is a live question that the National party will be watching, particularly in the seat of Nicholls.

Read the complete article….
Editors comment: This is another article in a series exploring the possible electoral impact of a tsunami of teal independents who seem likely to hold the balance of power in a new kind of government in Australia: One forced to face and work with the reality of a rapidly changing world by a flock of independent, self-motivated thinkers and doers concerned above all else by the climate crisis and ethics to represent the people who elected them. Can government controlled by rational thinkers replace (or at least control) a government of complacent believers happy to follow the guidance of patrons in the fossil fuel industries who try to blind people with clouds of bulldust, humbug, misrepresentations and outright lies?
Our two green light candidates, Greens' Ian Christoe and Fusion Party's Andrea Otto were late registrants, but given green lights because of their parties' policies.
Vote Climate One has ranked Rob Priestly in the red light category, but he rejects funding from the coal industry and there are definite hints of teal in his corflutes and statements on climate and energy.
A net zero emissions target is required to combat the effects of climate change and protect our trade exposed industries from carbon tariffs on our products. Reaching a net zero target by 2050 will be challenging – it requires immediate changes to energy and transport sectors to ensure our children don't shoulder all the burden of this transition close to 2050. Although the Morrison government has committed to net zero, the lack of policy urgency suggests that they would prefer to leave the difficult work to a future government.

…

The transition to net zero emissions is happening regardless of who is in government, so the old arguments about should we take action or not are finished. The real question is what is the best way forward.

I support a 2030 target in line with the Business Council of Australia, which is a 46 to 50 percent reduction. As a business person and big energy user I know that energy assets last 50 plus years, so early action is important to avoid big price shocks later.

We need to make sure our region doesn't wear all the costs associated with transition and get none of the opportunities. Bioenergy from agricultural waste is a great example of an opportunity that we should be capitalising on in this region. Without some competition for the seat, investments will go to marginal seats elsewhere in the country.

… [Priestly's statement of true independence]

All the funds for this campaign are from people who live, farm or do business in the seat of Nicholls. The exception to this is a couple of my family members living outside the electorate who wish me well and want to donate.

I am not taking any money from Climate 200 or GetUp. Unlike the Liberal and National parties, I'm not taking donations from coal, gambling or alcohol companies.

Our donors are people who have skin in the game here. They're mostly small business people who have seen the investment an independent can bring at a state level and individual people who want change in the tone of our politics. Many are farmers who are keen for better representation on water policy.

…

I have decided not to engage in any preference deals. I'll be asking supporters to vote 1 for me and then decide who they want second, third etc. If you really want someone else at 1, then put me at 2. Please remember to number all the boxes.

From https://www.robpriestly.com/about
Featured Image: Boundaries of the Nicholls Electorate from Vote Climate One's Nicholls Electorate page. Click candidate names for more details.
Views expressed in this post are those of its author(s), not necessarily all Vote Climate One members.