The Conversation observes that the LNP is only getting its just rewards from its treatment of and condescension to women
by Michelle Arrow, 18/05/2022 in The Conversation
Hey, guess what, guys? Women vote too – and they may decide the outcome of this election
Since 1999, Australia's parliament has become less, not more representative of women: we have plunged from 15th in the world to 57th on this measure. In the early 1990s, both major parties had around 11% female MPs: now, the ALP has 47%; the LNP has just 26%.

…

The rise of (mostly) female independent candidates has highlighted the LNP's cultural problems with women. Faced with a government that bullied and humiliated many of the women in its ranks, and which has proved intransigent on climate change and corruption, a group of highly capable women have steadily built grassroots campaigns in formerly safe Liberal seats.

The teal independents are highly accomplished, white female professionals, running against "moderate" or self-described "modern" Liberal MPs. They are not former staffers or party hacks. They have tapped a deep well of frustration about politics but have channelled it to build positive, inclusive and local campaigns.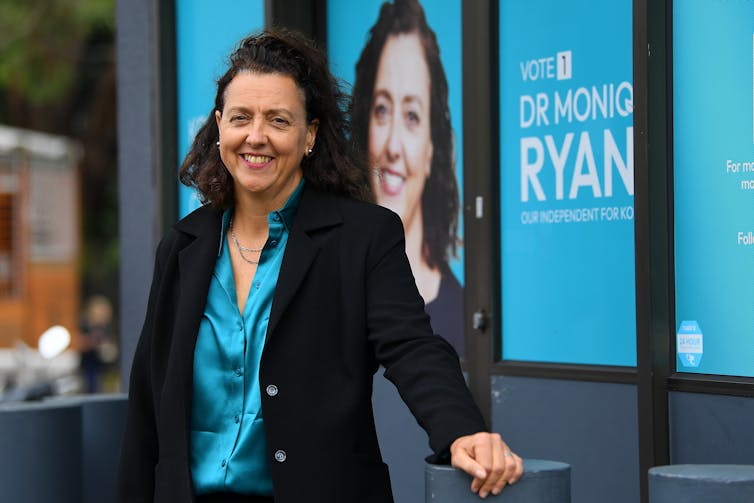 The men of the Liberal party have responded to them with a mixture of outrage, misogyny and petulance. These women had the temerity to challenge Liberal MPs who, in the words of Alexander Downer, "could become truly great men".

Liberal MP Jason Falinski suggested the money independents were spending on their campaigns was "immoral" because they could be directing their resources to women's refuges. Matt Canavan even described gender equality as a "luxury" that only the teal seats, not "bogans", could afford.

The treatment of the independents by the men in the LNP has provided a telling insight for the ways they have treated the women in their own party. It has also offered a glimpse of the ways they regard women, even ones who would normally be inclined to vote for them. Women are fine, provided they know their 'place'.

Read the complete article….
Featured Image: AAP/Diego Fidele from the article – Handing out how to vote cards at a polling place.
Views expressed in this post are those of its author(s), not necessarily all Vote Climate One members.