IPCC's Sixth Assessment WG2 Report looks at climate change's global and regional impacts on ecosystems, biodiversity, and human communities
On February 28 the Intergovernmental Panel on Climate Change (IPCC) officially launched the second of three parts of their Sixth Assessment Report, produced by Working Group II: responsible to assess the impacts of climate change, from a world-wide to a regional view of ecosystems and biodiversity, and of humans and their diverse societies, cultures and settlements. It considers the vulnerabilities and the capacities and limits of these natural and human systems to adapt to climate change to reduce climate-associated risks and provide options for creating a sustainable future for all through an equitable and integrated approach to mitigation and adaptation efforts at all scales. In other words, it provides a route map to global warming on the road to hell
Even though the IPCC is heavily constrained by its political structure and its highly bureaucratic and conservative approach to science, this report predicts dire consequences for humans and the rest of our biosphere from the ongoing climate change (i.e., global warming). However, all readers of the report and the flood news items relating to it must understand and recognize that political censorship and scientific reticence is still very much alive and well in this report. The likely realities are probably a lot worse than reported here.
To test my assumption that the Report softens the actual reality, I have thoroughly scanned all 3,675 pages of the full report for all uses of "human" and "extinction" using Acrobat X's powerful search function. The word "extinction" is used 322 times in the full document, and "human" and "extinction" are found within 10 words of one another 33 times. However, "human extinction" is used only once — and this in the title of a reference not discussed from this point of view in the text. Most of the other hits relate to human or climate change induced extinctions of other species, while authors have carefully avoided extending the logic to humans.
Nevertheless, the bleeding obvious conclusion from the vast amount of data presented in the report is that if governments and people do not succeed in stopping the ongoing global warming there is a very high risk of near-term human extinction.
Also, the news items on the unprecedented/NB4 flooding over the last week of a substantial portion of Australia's east coast underlines the already horrific impacts on Australian citizens from the increasing rate of global warming. The Guardian article below ties the flooding to the situation described in the IPCC Report. Bloomberg Green's news item on the Report is typical of hundreds more news items around the world. As long as our planet continues to warm, more and more energy is available to drive extreme weather events. What in the past may have been one in 500 year events are beginning to happen again only 5 years into the future. This is when each climate catastrophe causes even more disruption before recovery from the previous ones are still far from complete. This is when the total collapse of human civilization begins, and the risk of global mass extinction becomes very real.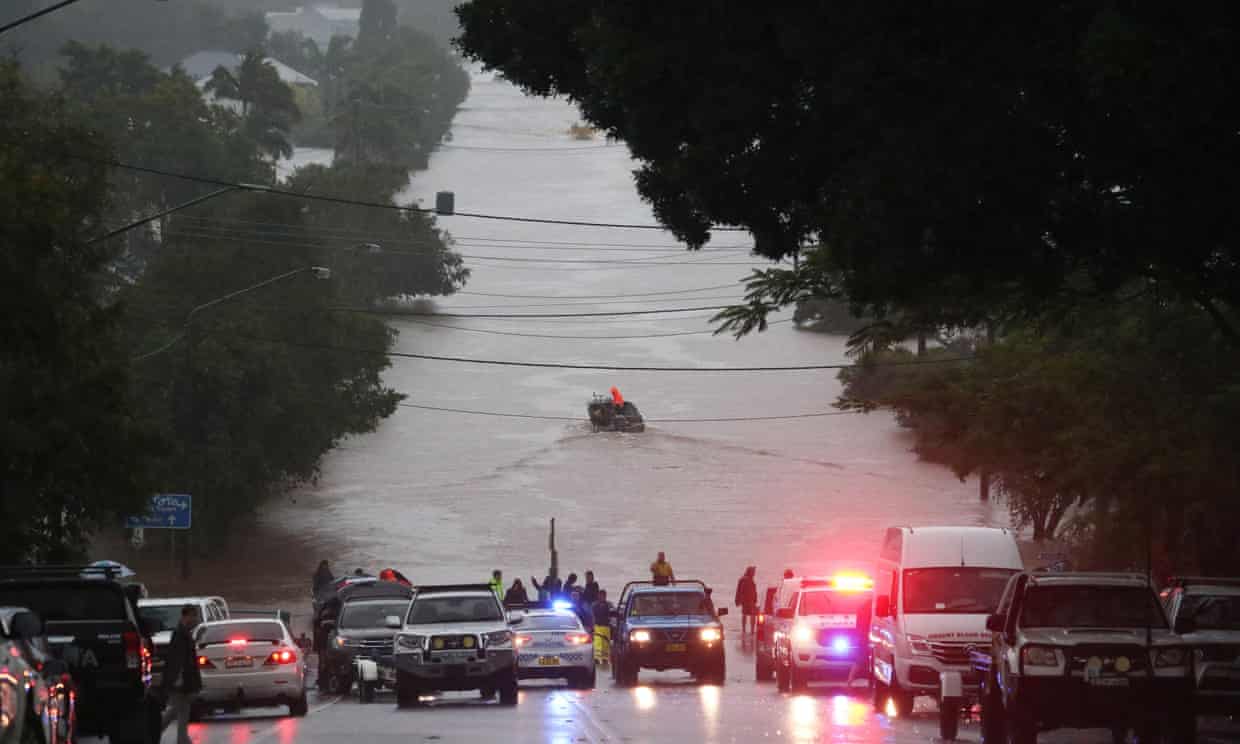 by Adam Morton, 28/02/2022 in The Guardian
Catastrophic flooding on the scale of the disaster hitting Queensland and New South Wales is becoming more likely as the planet heats due to greenhouse gas emissions, climate scientists have warned.

The latest major assessment by the Intergovernmental Panel on Climate Change (IPCC) found global warming caused by humans was causing dangerous and widespread disruption, with many effects expected to be more severe than predicted.

In Australia, it said extreme events exacerbated by emissions – heatwaves, droughts, floods, storms and fires – were causing death, injury and financial and emotional stress. Their impacts were "cascading and compounding" across nature, society and the economy.

Read the complete article….
by Eric Roston and Leslie Kaufman, updated 1/03/2022 in Bloomberg Green
The breakneck speed of global warming exceeds the pace of efforts to protect billions of vulnerable people, according to a new report released Monday by the world's top climate scientists. The report warns of a growing mismatch between rising temperatures and slow, fragmented efforts to adapt, leaving little time for catching up before "a brief and rapidly closing window of opportunity" is sealed shut.

"With fact upon fact, this report reveals how people and the planet are getting clobbered by climate change," said UN Secretary-General António Guterres, calling the 3,500-page document "an atlas of human suffering" and an indictment of a "criminal" "abdication of leadership."…

Read the complete article….
The UN Secretary General António Guterres says that the IPCC Report is "an atlas of growing human suffering and an indictment of a criminal abdication of leadership". I provide evidence here that our political leaders are the abdicators
The handwriting has been on the wall for some 40-50 years the unrelenting of greenhouse gases from burning fossil fuels to drive our continued industrial development would increasingly warm our whole planet. As explored in a series of reports by Inside Climate News, Big Oil's own research identified the problem, and the industry by ramping up a relentless campaign using tools originally developed by the tobacco industry to deny and misrepresent the reality, direct attention away from it, to recruit "scientists" to discredit the actual science, and to "encourage" politicians to introduce legislation to block research and actions that might lead to the elimination of carbon emissions.
What follows here is some very solid evidence in our "leaders" of just how effective the fossil fuel industry and its allies in the media; and its puppets and useful idiots in governments and the institutions have been in distracting and blocking Australians from taking any effective action towards solving the ever worsening climate emergency by stopping global warming.
This book by Maria Taylor — Published in 2004 by ANU Press, The Australian National University, Canberra ACT 0200, Australia (freely available on-line) documents in detail based on contemporary press reports just how comprehensively successful the special interests have been in protecting and promoting the continued growth their of their industries at the expense of the continued survival of our species. This 230 page (free!) book should be required reading for anyone concerned about the survival of their families into the future in face of the oncoming crescendo of catastrophes the ongoing climate emergency is bringing us. On its own, this book is filled with compelling reasons why we must remove the present members of the LNP COALition government and their fellow travelers from Parliament that are driving us down the road to hell and replace them with rational people who are committed to putting action to solve the climate crisis at the top of their to-do lists if elected to Parliament.
Even if you have always voted for the LNP or one of their fellow traveling minor parties and have any questions about removing these puppets from office, listen to and think about what they told us in their own humbug and bulldust about how they are working keeping Australia's fossil fuel interests (not the Australian citizens who voted for them) safe from the climate emergency.
Paving the road to hell in their own words….. Only a sampling
Tony Abbott sets tone for successive COALition governments
Barnaby Joyce, 'Blarney Bulldust, the man in the hat' at work leading the fight against the climate emergency
Scotty fighting the climate emergency during the worst of Black Summer
Words are cheap – how are you going to do it???
Angus Taylor Minister for Energy and "Emissions Reduction"
Craig Kelly ex Liberal now Clive Palmer's United Australia Party
Malcolm Roberts One Nation Qld.
Scotty supports fossil fuel above climate survival
Gas-led recovery funds fossil fuel & distracts from labor intensive renewable energy
Morrison humbuggery at COP26 in Glasgow
What is the truth behind the COALition's humbug, bulldust and blather – and how can you find it
In my many years of professional life in evolutionary biology and engineering knowledge management systems analysis and design I spent several years studying how to identify authentic reality amongst the clouds of human faith, true-belief, opinion and deliberate attempts to misrepresent and deny important facts of the world we are living in. Both as a scientist and from my employment in the defence engineering world I am fully aware that our lives may depend on recognizing and acting on real dangers in the world we live in. Ignoring them does not make them go away!
From 2013 to 2017 I gave several presentations around Melbourne explaining what I learned in this area. I provide links to them here in hopes that others can learn from them, and to show that my comments on how the COALition and its fellow travelers have worked to pave the road to hell by misrepresenting, distracting attention from, and actually blocking any concerted action to stop carbon emissions are based on a great deal more than just political disagreement.
Note: the first 6 documents describe my learning experiences and some of the lessons I drew from them. The last three speak most directly to sorting our way through today's political humbug to find hints of reality.
The common factor in all the political interviews I linked above is that they humbug, avoid, minimize, distract from or even lie about the emerging dangers of global warming driven by fossil fuel emissions, while also emphasizing the need to continue or even expand support for fossil fuel industries such as coal and gas in order to maintain/protect employment and the Australian economy. Even more important is the total absence in all the humbug and blather of any comments that the lower cost for renewable energy and the investments to build and deploy the vast array of new generators, storage and distribution systems for renewable energy. These will do far more to increase employment and economic activity than anything that can possibly be done to support the dying fossil fuel industry. There is also no hint of the further economic activity that will be needed to mobilize global solutions to reduce warming by capturing and sequestering atmospheric carbon.
Where some of the puppets are concerned, the strings tying them to the fossil fuel industry rather than the Australian voters are starkly obvious. Craig Kelly is tied to Clive Palmers billion dollar coal interests by Clive's totally funded United Australia Party (how much has already been spent on the endless TV commercials and full-page newspaper ads?) Malcolm Roberts is practically wed to Pauleen Hanson who founded Pauleen Hanson's One Nation party. Malcolm worked most of his life in the coal industry. Both Pauleen and Malcolm are currently Senators for Queensland in the Australian Parliament and totally committed to advancing the coal industry. It is less clear what so strongly motivates Scott Morrison and Barnaby Joyce to promote growth of the fossil fuel industry at the expense of renewables, but there is no evidence that the continually growing evidence that fossil fuel emissions are having profoundly bad impacts on Earth's atmosphere and biosphere as emphasized in the AR6 pt. 2 Report causes any concerns for these two.
We need to turn away from the road to hell, and we won't do this by continuing with business as usual!
It seems to taken the clear thinking of Greta Thunberg, a 16 year-old girl who concluded school was pointless as long as humans continued their blind 'business as usual' rush towards extinction.
In other words, wake up! smell the smoke! see the grimly frightful reality, and fight the fire that is burning up our only planet so we can give our offspring a hopeful future. This is the only issue that matters. Even the IPCC's hyperconservative Sixth Assessment WG2 Report that looks at climate change's global and regional impacts on ecosystems, biodiversity, and human communities makes it clear we are headed for climate catastrophe if we don't stop the warming process.
Scott Morrison and his troop of wooden-headed puppets are doing essentially nothing to organize effective action against the warming. In fact all they doing is rearranging the furniture in the burning house to be incinerated along with anything and everyone we may care about.
In Greta's words, "even a small child can understand [this]". People hope for their children's futures. She doesn't want your hopium. She wants you to rationally panic enough to wake up, pay attention to reality, and fight the fire…. so our offspring can have some hope for their future. Vote Climate One's Traffic Light Voting System will help you use your preferential votes wisely on behalf of our offsprings' future.
Views expressed in this post are those of its author(s), not necessarily all Vote Climate One members.