Are people ignoring the IPCC's climate warnings? Why?
Even the very conservative Intergovernmental Panel on Climate Change says billions of people will suffer direct harm from ongoing global warming. Are they getting the message?
Although their science is impeccable, I have explained in detail that the IPCC is constrained by governmental foundations and scientific reticence to understate and downplay the dramatically stark nature of the impacts accelerating global warming is having and will have on human populations and Earth's biosphere.
Nevertheless, even the IPCC warns that half of all humanity can expect serious impacts from the crisis, including a billion people face coastal inundation from rising sea levels (to say nothing of those already caught up in riverine and flash flooding from extreme weather. And then there are the mass dieoffs of trees, corals, and other land and marine organisms that are already beginning, to say nothing of large areas of land becoming unsuitable for agriculture due to droughts, excessive temperatures, fires and too frequent flooding.
The IPCC's warnings are most succinctly expressed in terms of conditions that our children and grandchildren can expect in their lifetimes in FAQ 3: How will climate change affect the lives of today's children tomorrow, if no immediate action is taken? For example:
"Children aged ten or younger in the year 2020 are projected to experience a nearly four-fold increase in extreme events under 1.5°C of global warming by 2100, and a five-fold increase under 3°C warming. Such increases in exposure would not be experienced by a person aged 55 in the year 2020 in their remaining lifetime under any warming scenario".
"With ongoing global warming, today's children in South and Southeast Asia will witness increased losses in coastal settlements and infrastructure due to flooding caused by unavoidable sea level rise, with very high losses in East Asian cities. By mid-century, more than a billion people living in low-lying coastal cities and settlements globally are projected to be at risk from coastal-specific climate hazards. Many of those will be forced to move to higher ground, which will increase competition for land and the probability of conflict and forced relocation."
"Climate change will impact water quality and availability for hygiene, food production and ecosystems due to floods and droughts. Globally, 800 million to 3 billion people are projected to experience chronic water scarcity due to droughts at 2°C warming, and up to approximately 4 billion at 4°C warming, considering the effects of climate change alone, with present-day population."
"Depending on future policies and climate and adaptation actions taken, the number of people suffering from hunger in 2050 will range from 8 million to up to 80 million people, with most severely affected populations concentrated in Sub-Saharan Africa, South Asia and Central America. Under a high vulnerability-high warming scenario, up to 183 million additional people are projected to become undernourished in low-income countries due to climate change by 2050."
And this is a highly conservative reading of the likely consequences of continued warming….
What do people and their governments need to do in response to the warnings? As emphasized in the Guardian article and IPCC Report, far too little effort has been made up to now either to mitigate or adapt to the climate changes being driven by global warming. To avoid the most extreme consequences (e.g., global mass extinction – not discussed anywhere in the Report due to government suppression and scientific reticence) much greater effort must be devoted to stopping human carbon emissions and implementation of major mitigation projects.
The third part of the IPCC AR6 report, on mitigation is due for release next month, will explore the kinds of strategies that need to be implemented to mitigate the most immediate effects. Part 4, to be released in October will provide information for discussion by policymakers at COP 27.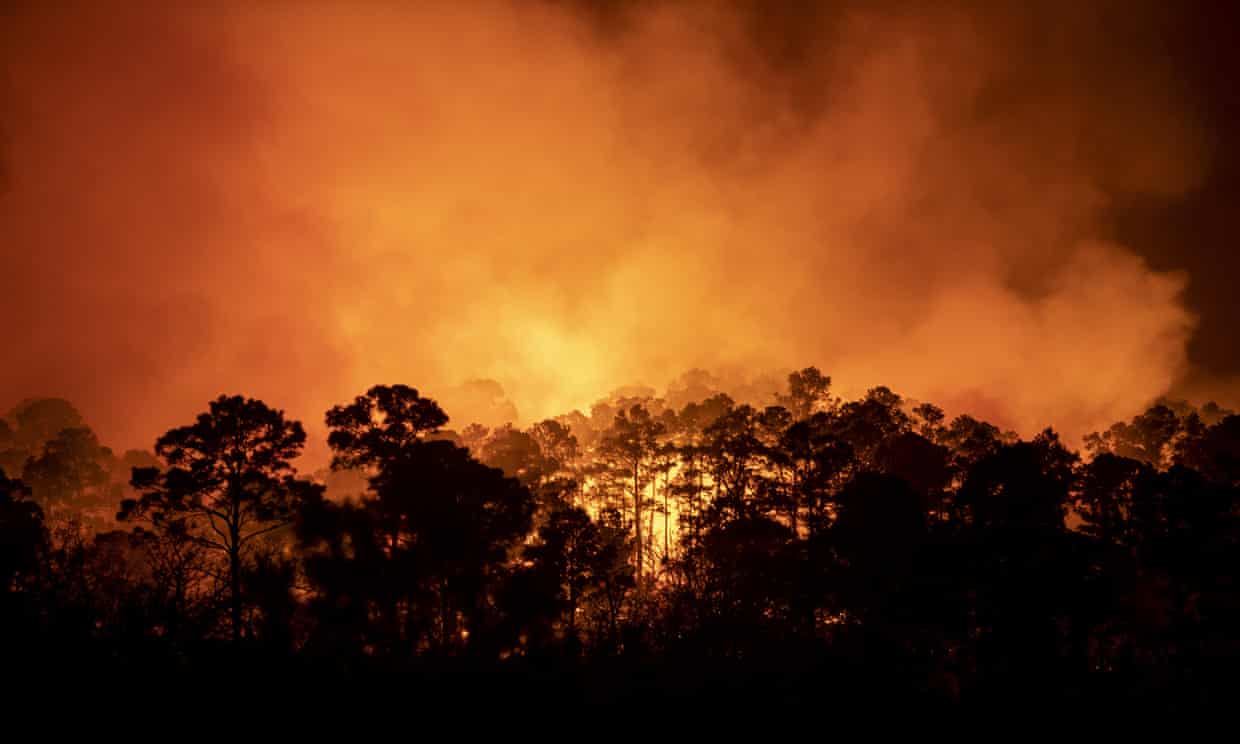 by Fiona Harvey, 05/03/2022 in the Guardian
Q&A: Has the IPCC's bleak warning of climate breakdown been heard?: Report by Intergovernmental Panel on Climate Change said half of the world's people are 'highly vulnerable'
The point I am trying to make with this post is that if the IPCC says our future is filled with dire consequences if we fail to act now to stop and begin reversing global warming, our future is very likely to be even a lot worse than forecasted in the full 3675 page document. My assessment of the vast array of evidence around climate change based on a long professional career as an evolutionary biologist and complex systems analyst is that global warming is approaching a point of no return beyond which nothing humans can do will stop Earth's climate system from runaway heating to its 'Hothouse Hell' state, as explained by Steffen et al, 2018 in their Trajectories of the Earth System in the Anthropocene in the Proceedings of the National Academy of Sciences. This risk is both real, and very large if warming is not stopped.
Unfortunately most governments have done very little to slow global warming by actually stopping greenhouse gas emissions or to mitigate the kinds of dangers described in the IPCC AR6 pt. II report. Some are just incompetent, but most seem to be well trained puppets of already super-wealthy special interests of fossil fuel industry who put protecting the special interests continued profits above any serious actions that might curtail them, as is all too evident where both the American and Australian governments are concerned.
Where America is concerned Big Oil's well honed disinformation campaigns have been all too successful and have been very successfully backed up in government by Senator Joe Manchin.
In Australia we have been governed by the LNP COALition that has their own very effective disinformation system supported by Scotty from marketing himself (listen to his own words here), many cabinet ministers, and to say nothing of a totally funded minor party, coal double billionaire Clive Palmer's United Australia Party and Pauline Hanson's One Nation Party with its coal loving and climate science denying senator, Malcolm Roberts.
I have said what follows before, and I'll probably say it many more times – because it is important!
We need to turn away from the road to hothouse hell, and we won't do this by continuing with business as usual!
It seems to have taken the clear thinking of Greta Thunberg, a 16 year-old girl who concluded school was pointless as long as humans continued their blind 'business as usual' rush towards extinction.
In other words, wake up! smell the smoke! see the grimly frightful reality, and fight the fire that is burning up our only planet so we can give our offspring a hopeful future. This is the only issue that matters. Even the IPCC's hyperconservative Sixth Assessment WG2 Report that looks at climate change's global and regional impacts on ecosystems, biodiversity, and human communities makes it clear we are headed for climate catastrophe if we don't stop the warming process.
Scott Morrison and his troop of wooden-headed puppets are doing essentially nothing to organize effective action against the warming. In fact all they doing is rearranging the furniture in the burning house to be incinerated along with anything and everyone we may care about.
In Greta's words, "even a small child can understand [this]". People hope for their children's futures. She doesn't want your hopium. She wants you to rationally panic enough to wake up, pay attention to reality, and fight the fire…. so our offspring can have some hope for their future. Vote Climate One's Traffic Light Voting System will help you use your preferential votes wisely on behalf of our offsprings' future.
Featured image: Climate emergency – The oceans are risking. Melbourne was part of the global climate strike on March 15, 2019, drawing an enormous crowd estimated at 40,000 people, the vast majority school students. After welcome to country and some speeches at the Old Treasury Building the march wound it's way through CBD streets, down Collins Street and up Bourke street, then down to Treasury Gardens. It was a highly energetic march with the roar of chanting calling for coal, don't dig it, and for climate action now. . Attribution: Takver from Australia, CC BY-SA 2.0, via Wikimedia Commons / https://upload.wikimedia.org/wikipedia/commons/thumb/0/0d/The_oceans_are_rising_and_so_are_we.Climate_emergency–Melbourne_climate_strike–IMG_4246%2833509327348%29.jpg/1200px-The_oceans_are_rising_and_so_are_we.Climate_emergency–Melbourne_climate_strike–IMG_4246%2833509327348%29.jpg?20190416115510
Views expressed in this post are those of its author(s), not necessarily all Vote Climate One members.