Sea levels are rising now. Here's some evidence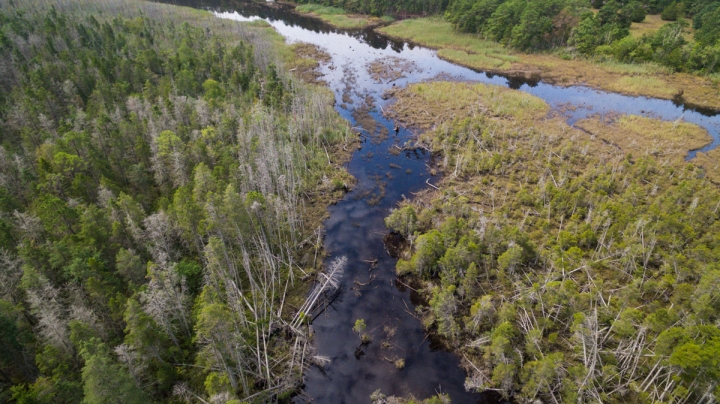 The North American Coastal Plain loses nearly 700 km² of wetland forest a year (and more on the Pacific Coast) from rising salt water levels
by Rachel Duensing, 16/03/2022 in 17 News WNCN Raleigh
Sea-level rise creating 'ghost forests' in North Carolina: Imagine a forest the size of Raleigh and Durham. Now imagine a forest that size dying every single year.It's an unfortunate reality that's happening right now across the North American Coastal Plain, including part of our backyard here in North Carolina.
Featured Image: Atlantic white cedars dying near the banks of the Bass River in New Jersey.
Credit: Ted Blanco/Climate Central / https://assets.climatecentral.org/images/made/9_13_16_upton_BassRiver-27_720_404_s_c1_c_c.jpg / From: 'Ghost Forests' Appear As Rising Seas Kill Trees, by John Upton, Climate Central
Views expressed in this post are those of its author(s), not necessarily all Vote Climate One members.