Hung Parliament: chaos vs independent thinking
Politicians threatened by community-based independents warn of CHAOS, but these thinking independents have ideals rather than ideologies.
Depending on how people vote, we may be headed towards a major revolution in the structure and functioning of our form of Parliamentary government.
Under 9+ years of LNP COALition government, major policies have been heavily influenced by special interest patrons and puppet masters in the fossil fuel and and development industries. As the climate emergency grows ever more stark, and the COALition offers little besides humbug, misrepresentation and blarny together with blatant lack of ethics towards solving the crisis an unprecedented number of well-established professionals and business owners/managers in local communities decided they could do better jobs as independents representing their communities than any of the political incumbents or nominees. A few of these independents are men, but most are emotionally mature and thoughtful women and mothers with practice juggling the responsibilities of managing important jobs together with preparing their children to face a seemingly dismal future.
Because many of these independents are progressive moderates, politically falling between Greens (adopting the color green) and small 'l' Liberals (normally adopting blue), they soon became characterized by the intermediate blue-green color 'teal' – henceforth termed 'teal' independents. According to many news reports and even incumbents, more than enough teals are running that even if only a few of them are elected in place of major party candidates, no party or currently existing COALition would be able to form government in its own right.
Today's featured article looks at the teal phenomenon in depth, and explores just what kind of people have become teals and what has motivated them to put aside their comfortable and rewarding jobs in the community or business to run for a place in the cesspit of our current government.
As I write this and somewhat facetiously, the fact that on top of other qualifications I'll discuss, many of the women have successfully raised (or nearly raised) families suggests they are not fazed by dealing with childishly irrational tantrums and cleaning out dirty dirty bathrooms.
In any event, if you still haven't totally made up your mind how to vote next Saturday, read the featured article and what I write here, and think about what it might be like to have several of these capable people representing their communities in a Parliamentary balance of power. See also the caption of the Featured Image at the end of this post.
by Margaret Simons, 04/2022 in The Monthly
Independents and the balance of power: The federal election may hinge on a new crossbench of professional women in wealthy inner-city seats and a rural revolt against the Nationals.
… [A] wave of credible local figures [are] running as independent candidates in the forthcoming federal election. Nearly all of them are taking on electorates normally regarded as safe for the government. Their cumulative impact, and the prospect that some of them might just win, is one of the things that will make the coming contest different. If neither the Coalition nor Labor win in their own right, newly elected independents and those of the existing crossbench who are re-elected will decide who forms government. "Foment" might be a better word for the phenomenon than "wave", since it is a multiple bobbing up rather than a single, connected thing. There are different issues in each electorate, and a different ecosystem surrounding each candidate.

There is a new ecology surrounding this phenomenon. It includes grassroots community groups promoting political discussions in electorates. In some cases, that is all they do, but other groups actively seek out and endorse independent candidates. Hybrid political organisations are springing up as part of this ecology. There are groups such as Climate 200, founded and convened by entrepreneur and climate philanthropist Simon Holmes à Court, which is raising money and funding carefully picked "values aligned" candidates. Climate 200 has what might be described as nascent policies – on climate change, government integrity and women's rights – but insists it is not, and will not become, a political party. Meanwhile, candidates in Tasmania have founded the Local Party, which is running candidates but has no policies, instead existing to promote participatory democracy.

So what's going on? Is this a transitory thing born of particular circumstances, or is it a permanent change to Australian politics? And if the latter, what does it mean for the way we are governed? Is it a good thing, or a harbinger of instability?

Read the complete article – long but very thoughtful….
The 'teal' phenomenon
In this article I want to share some thoughts about this quandary from my studies of the electoral landscape as Editor of Climate Sentinel News. I am not a political scientist. My bias here comes from a lifetime study of evolution and change: of life as a whole, of human culture from our primate ancestry, and of the growth and evolution of knowledge and wisdom in human organizations. If you are an 'undecided' voter, how I answer the 'how to vote' quandary can be expressed in one short paragraph:
Where you have a choice between an established and known political devil versus a politically untested but demonstrably rational thinker and doer from your own community, which candidate will create the most chaos when faced with a growing emergency?
An established politician who you know will reliably try to enforce their party policy/dogma/beliefs and the desires of their largely unknown financial patrons on citizens, no matter what.
A rational thinker and doer who has demonstrated their capabilities for successful decision and action while working together with others in the existing chaos of their communities and families to successfully solve whatever problems that face them.
Which candidate will be more likely to help solve problems not precisely covered in party dogma?
However, before I begin my spiel, for an 'op ed' report on what I will have to say about the teals, I suggest you see consider how Sky News reports on a threatened Liberal candidate supported by the 'special interests' including Sky News's own parent organization Murdoch Press. This "news" report clearly demonstrates how the COALition and their supporters are responding to the threats.
● Tyrone Clarke, 09/05/2022 in Sky News: Liberal MP Tim Wilson says Climate 200-backed independents are trying to 'sneak Labor into government' [also watch the embedded videos].
Contrast this with a more pro-teal article
● Amy Nethery, 03/05/2022, in The Conversation – Why teal independents are seeking Liberal voters and spooking Liberal MPs
Some history
Successful progressive independents are not unknown in recent Australian Parliaments, and have even played important roles in minority governments:
● Frank Bongiorno & David Lee, 22/04/2022 in the Conversation: Could the 2022 election result in a hung parliament? History shows Australians have nothing to fear from it.
Whatever the case, it is entirely possible a hung parliament might provide the circuit-breaker for a parliament that needs to grapple with much needed national reforms.
Nick Evershed, 05/05/2022 in The Guardian: Will a hung parliament lead to 'chaos'? What a Gillard v Morrison comparison reveals
Using records published by the parliament of Australia, it's possible to see a summary of the number of bills introduced by the government and how many were passed by both houses. This excludes private member's and senator's bills. You can read more details about the methods below.

The data shows that despite having to negotiate with independents to pass legislation through the House of Representatives, Julia Gillard's government has the second-highest percentage of passed legislation.

…

Lowest on the list are the Abbott, Turnbull-Morrison and Rudd governments – all of which involved governments having to make deals with Senates described as "hostile" and "feral".

The 2019 Morrison government has had notable struggles passing its own legislation, with the voter identification legislation lacking support, and its religious discrimination bill failing to move through the Senate. Another key policy, legislation to establish a federal anti-corruption body, was not introduced at all, with Morrison blaming a lack of support for the government's preferred approach.

Gillard's government also scores higher than Morrison's when looking at the overall rate of legislation passed a day, an index I've previously described as "productivity in parliament".

…

Last month Frydenberg warned in a media conference this was not the time to take a chance on "the chaos of a hung parliament".

Similarly, when asked during an interview on Tuesday whether he would negotiate with independents, Morrison said he would not.

"This is a real question for the people who are voting at this election," he told 3AW. "Voting for the independents is a vote for chaos."

It should be noted that both of the above analyses do not count the number of bills lost to failed negotiations prior to the introduction of legislation.

However, in the context of minority governments, or governments that have a minority in the upper house, these indexes may give us an indication of which governments were better and worse in their negotiations with crossbenchers or the opposition.

Read the complete article….
See also ● Matthew Liddy, 08/09/2010 in ABC News: Labor's minority government explained.
Julia Gillard's government never had a majority in either the house or senate during its life time, but in terms of legislation passed during its lifetime it was the second most successful government in Australian history! It depended on all Labor members present and agreeing, plus 'alliance' agreements with the Green's Adam Bandt, and three greenish independents: Rob Oakeshott, Tony Windsor, and Andrew Wilkie. Wilkie was an intelligence officer in the Office of National Assessments who resigned because of his disagreement with the Government of the day's joining the Iraq invasion. He is still in office as an independent today! Oakeshott and Windsor both represented rural NSW. Oakeshott was a National Party representative until he resigned to become an independent, and Windsor and a long-time independent for his areas in both NSW and Federal Parliaments. (see ● Sally Warhaft, Tony Windsor & Rob Oakeshott, 14/04/2015 in The Wheeler Centre – Fifth Estate: Independents Day: Tony Windsor and Rob Oakeshott). This year both Windsor and Oakeshott are key advisors to 'Voices' groups.
Some numbers
According to Vote Climate One's Voting Guide approximately 100 of the than 1203 registered candidates for the lower house are 'independents' (i.e., don't belong to any specified group or party), and of these approximately 30 by my count have been ranked as green-light for first preferences.
The numbers are a bit fuzzy, but most of these have been promoted by various electorate-based voices groups and/or part funded by Climate 200 as 'teals'. None of us agree wholly agree on our first-preferences lists. Also, even within Vote Climate One there a few candidates we haven't given the green light to, but that one of the other organizations would support for a first preference. In any event, the fact that there are 20-30 independents (+ more Greens, + a few other green minor parties running that may also be electable) is suggests we may see a totally new kind of government in less than a week!
As noted previously, around 90% of these green light independents are women, the majority of whom are also mothers of growing families with teenage children.
The general processional competence of these independents is also quite remarkable: 6 have medical or other doctoral qualifications and practical experience.
All these women are products of and still are (or are again – after international experiences or training) associated with their local communities. All are clearly self-motivated thinkers and doers with years of experience working in the community to make life better for their communities. All have considered what the climate crisis means for their families and what the existing politicians are (not) doing to solve the crisis. Accepting that this is the only thing that really matters of their families are to have future – they have put their successful careers aside to run for Parliament, where they may actually be able to apply their skills to making government work to solve problems.
If you are still undecided who to vote for between teals, Greens, Greenish parties, and spin merchants of the fossil fuel industry trying to convince you that these ladies and their teal friends are evil lefty conspirators belonging to a secret political party funded by a hidden patron, a lot of their humbug and bull dust is built around two names: "Voices" and "Climate200".
Voices
Basically, "Voices of …" are emergent and politically unaffiliated groups of people in local communities gathering around kitchen tables to discuss their concerns about the future and what our politicians are not doing about it – especially in terms of the climate emergency, sexism and sexual harassment, and the growing lack of ethics in government. Thanks to the model provided by the independent Kathy McGowan in Indi (Victoria) and perfected by her successor in Indi, Helen Haines and Kerryn Phelps (Wentworth – by election following Turnbull resignation) and Zali Steggall (Warringah – defeating ex PM Tony Abbott), many of the new flock of teals emerged from voices groups in several more 'safe' electorates held by the COALition.
Incidentally my colleagues and I published several academic papers on how such community organizations emerge and manage their growth and community actions:
The emergence of Voices groups would seem to fit this model very well – especially where the use of social networking technology is concerned.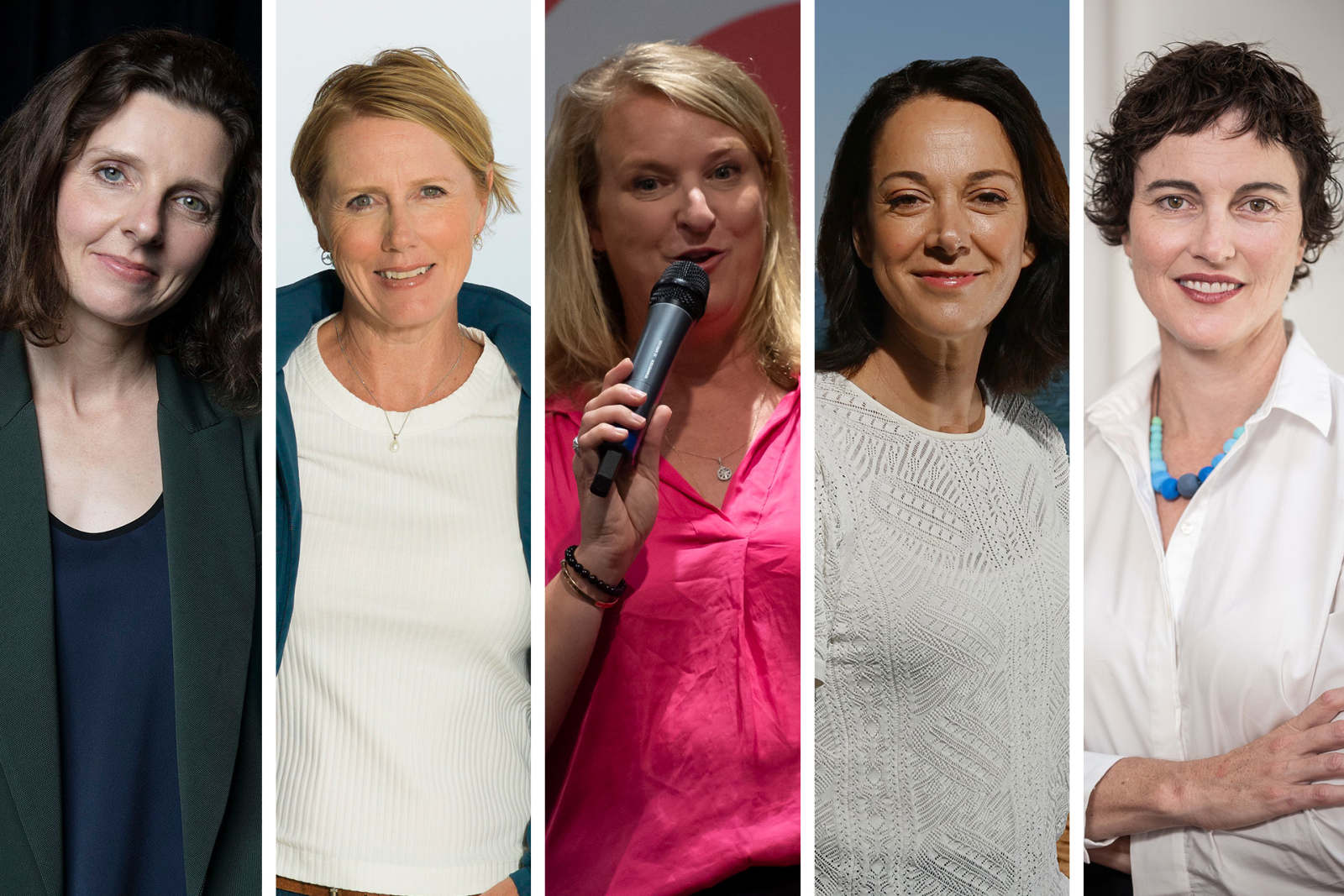 Royce Millar, 06/05/2022 in the Age
A secret party? Immoral? Explaining who the 'teal' independents really are
The independents, their backers and local supporters do, however, share resources and strategies across seats, not unlike an embryonic party – co-operation that has been encouraged by trailblazing former independent MP turned teal mentor, Cathy McGowan.

The teal movement started more than a decade ago with the founding of the Voices of Indi, a community organisation that helped McGowan take the Liberal-held Victorian seat of Indi in 2013 from its incumbent, Sophie Mirabella. This inspired others such as Zali Steggall, who successfully challenged former prime minister Tony Abbott for the Sydney seat of Warringah in 2019.

McGowan describes the current independent phenomenon as a movement. "There is definitely a thread there," she says. "Community engagement, quality candidates and effective campaigns."

As they argue that the teal movement is an undeclared party, their Liberal detractors point out that they also share policy priorities of climate, government integrity and gender equality – especially in wealthier urban electorates.

The urban independents insist this is simply because such issues are the high-order concerns in their communities, and one which the sitting conservative MPs are not adequately addressing. McGowan notes that in rural seats such as Indi, water, infrastructure, health and social services are more important.

In keeping with the Indi model, Voices groups have emerged wherever communities are frustrated enough to organise. Typically, Voices groups withdraw after choosing a candidate and a separate campaign group is formed. In reality, the two often overlap.

University of Sydney political scientist Anika Gauja says the allegation that the independents are a party makes no sense because their very point is that they are the antithesis of the major parties – top-down organisations in which members have to toe the line.

"The teal independents", on the other hand, "have been backed by grassroots organisations that have chosen them".

Read the complete article….
Climate 200
The second thing threatened COALition members are terrified by is that some of the teals are outspending them on campaign advertising. As noted in the article below, Jason Falinski claims that there is something "immoral" about the amount of money available to teals – completely ignoring the fact that huge amounts of untraceable funds flow into the COALitions coffers for every election.
Actually it is well publicized that the very wealthy Simon Holmes a'Court has put millions of dollars of his own money in play to draw matching funds from community sources. How and why he has done this publicized on the Climate200 web site as well as who the large donors are and the amounts donated – totaling around 1,400,000 plus a similar amount from Holmes a'Court himself. See also a summary of Holmes a'Court's National Press Club talk on 16/02/2022 in F&P (Fundraising & Philanthropy), published 01/03/2022: David and Goliath – the Realities of Political Fundraising, where he compares what he is doing and his reasons compared to what the established political parties are doing.
Catherine Murphy's Guardian article here, gives her take on what the COALition is screaming about.
● Katherine Murphy, 23/04/2022 in the Guardian: Coalition scrimps on MPs as Climate 200-backed independents outspend them in key seats.
Katherine Murphy, 23/04/2022 in the Guardian
Coalition scrimps on MPs as Climate 200-backed independents outspend them in key seats
… The Liberal MP Jason Falinski, who is being challenged in his northern beaches seat of Mackellar by Climate 200-backed Sophie Scamps, said the amount being spent by independents was "immoral".

It is expected that Scamps will spend more than $1m trying to win the seat, with a combination of traditional and digital advertising.

Falinski suggested that the independents could instead be directing their financial resources to charity, giving the example of much-needed emergency accommodation for women fleeing domestic violence as one worthy cause.

"I just think it is an immoral use of money; we have real problems in the world and for these guys to be spending $2m against members of parliament, when, according to them, they agree with their member profiles, is just immoral.

"They agree with us on climate, they agree with us on equity for women, and they agree with us on integrity, but instead of helping us they are trying to knock us off."

Scamps suggested Falinski was "plucking figures from out of the sky or from the depths of social media rumour mills".

"Our campaign began two years ago with conversations at kitchen tables across the electorate to listen to the concerns of people who had been taken for granted for too long," she said.

"We are immensely proud and humbled by the way it has grown into a campaign supported by over 900 eager volunteers including some who have left their jobs to volunteer full-time on the campaign, as well as 640 donors who have collectively donated $565,644 to date.

"Additionally, Climate 200 is matching those community donations to help level the playing field against the resources and advantages held by the major parties."

Read the complete article….
You may also be interested to read ● RMIT FactLab, 12/05/2022: Online misinformation wars: the Goldstein electorate, where copious examples are given of the political blather and humbug posted on social media re the contest between Tim Wilson and Zoe Daniel.
How would teals respond to a hung parliament
This is the last major component of the bull dust, blather, misinformation and overall humbugging spewed by COALition members in fear of losing their once 'safe' seats to the teal tsunami. The next three articles cover this issue off quite well:
● Michelle Grattan, 20/04/2022 in the Guardian: Politics with Michelle Grattan: Andrew Wilkie invites independent candidates to call him for a chat about approaching a hung parliament
● Christopher Knaus, 12/05/2022 in The Guardian: What happens if there is a hung parliament: how would independents approach talks and what is non-negotiable?
● Michelle Grattan, 17/04/2013 in The Guardian's View from the Hill: Looking Back on the Hung Parliament
Oakeshott says that the great lesson for him out of this parliament has been that "bipartisanship is the best and politically the only way to achieve long-standing reform".

He admits that he's had disproportionate power. "Because others stayed true to their party first, they've handed me more influence than any one MP should have", he says, adding, "If they are going to hand it to me, I'll take it and use it – and I have".

From the article….
If you are still undecided how to vote in your electorate, but are concerned about action on climate change – you have nothing to fear from giving your first preferences to green light candidates
Think about this: Teals are practiced rational thinkers and doers. They understand science and are concerned enough about the futures of their families in a world being progressively heated by the continuing profligate burning of fossil fuels, and the integrity and ethics of a government continuing to promote the fossil fuel industry. Their ideas and ideals have driven them to set aside highly rewarding careers to run for Parliament where they might be able to actually fix things. Then there are the Greens Party nominees who are wedded to these ideal as a matter of party policy as well as (normally) by personal belief. And finally there are nominees of a few other minor parties also claiming to support climate action as a matter of policy.
Vote Climate One ranks all of the people fitting these categories as green light candidates that should be given your top preferences. We do not tell you how to rank such candidates in your electorate, but only that all green-light candidates should be numbered before numbering any of the red or orange light candidates.
Parties supporting the fossil fuel industries or other carbon emitting activities and/or lacking evidence of major activities to work towards zero emissions are marked with red lights. These should be numbered last.
Orange light candidates are those that have weak climate credentials theemselves or else are nominees of parties such as the Labor Party that are both relatively weak on climate and still beholden to support fossil fuel interests, but are potentially willing to support more effective actions in a green colored alliance.
A final thought: Teal independents are driven by ideals, thoughts and ethics; party members are driven by ideologies, beliefs and historical decisions;) populists and their believer followers are driving by narcissism, greed and hate (e.g., Clive Palmers United Australia Party, Pauleen Hanson's One Nation Party and or other faith & humbug micro parties).
Who is most likely to solve the climate crisis to avoid the existential risk of runaway global warming?
Featured Image: Hung parliaments can provide very effective government. Julia Gillard's 'hung' government was the second most successful government in Australia's history, based on the objective measurements of the proportion of bills passed, and absolute most successful based on the number of bills passed per parliamentary sitting days. This was in the face of incredibly vicious misogyny bulling of PM Gillard by the Opposition Leader, Tony Abbott, not helped by the poorly united and faction ridden Labor Party / Source: Nick Evershed, 05/05/2022 in the Guardian.
Views expressed in this post are those of its author(s), not necessarily all Vote Climate One members.