Rising crescendos: clusters of climate catastrophes
In a warming climate extreme weather events may encourage other extreme events to closely follow, e.g., fires followed by floods & landslides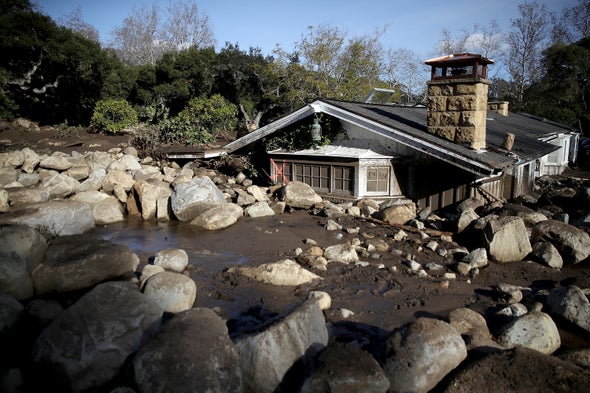 by Andrea Thompson, on 01/04/2022 in Scientific American
Double Disaster: Wildfires Followed by Extreme Rainfall Are More Likely with Climate Change: These events can cause devastating landslides and flash floods
At 3:30 A.M. on January 9, 2018, half an inch of rain poured down on the charred slopes of the Santa Ynez Mountains in coastal southern California. The flames of the Thomas Fire—at the time the largest wildfire in state history—had swept through the previous month, leaving the soil and vegetation scorched and unable to soak up the onslaught of water. The destabilized ground gave way in a devastating landslide. Boulders crashed into houses in the town of Montecito, Calif., and a highway was buried under several feet of mud. The disaster killed 23 people and caused an estimate of around $200 million in damage.

Read the complete article….
See the scientific report that is the source of this article: Touma et al., 01/04/2022, Climate change increases risk of extreme rainfall following wildfire in the western United States in Science Advances
Featured Image: This image from a rescue helicopter records the burn scar from the Thomas Fire, as well as the path of a deadly mudslide in Montecito, Calif., in January 2018. Credit: California National Guard, CC BY 2.0 / from No Relief from Rain: Climate Change Fuels Compound Disasters: Climate change is increasing the risk of fire-rain events, raising mudslide concerns in fire-prone communities. by Leah Campbell, 12/12/2021 in EOS.
Views expressed in this post are those of its author(s), not necessarily all Vote Climate One members.